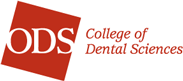 ODS College of Dental Sciences Program to phase out
The ODS College of Dental Sciences in La Grande is phasing out its Dental Hygiene Program with the last class graduating in March 2017.
Students interested in enrolling in a pre-dental hygiene program are encouraged to apply at Oregon Tech's Dental Hygiene Program.
Dental services still available to the public through March 2017
The ODS College of Dental Sciences will continue to offer quality, affordable dental care in a safe and professional environment.
Adult cleaning
Child cleaning
Adult/child fluoride
X-rays and exams
Limited Restorative Services
Please call 541-663-2721 to make an appointment or get more information about our discounted services.